Augusta GA Portrait Photography: Sommer
Happy Saturday, Y'all! It has been a wonderfully long week, and today is all the longer. I did think a little art might help the day along, so I wanted to share these images of our new friend, Sommer.
Bill Cunningham, the recently deceased New York Times fashion photographer, is quoted to have been searching for "birds of paradise" in and around Manhattan. He searched for women of "daring styles" instead of women with "cookie cutter sameness" for the subjects of his art. Young, old, poor, wealthy- his selection was based entirely on his artistic perception.
Patrick and I have often thought that we need some little booklet that says, "Hi. You have "it." Let us shoot you, please," as we travel around what would be a fashion wasteland compared to Manhattan. And our "it factor" doesn't necessarily pertain to whether or not a woman is fashionable at all. Our "it" factor is that beautiful gift God has given a woman- a striking set of eyebrows, a particularly long and graceful neck, a sweeping head of curls- it can be different for anyone. We have been gambling heavily on the notion that walking up to a complete stranger to tell her she has the loveliest jawline isn't going to land a drink in our faces ("Well I never! In your biggest southern accent), or worse! Because we usually get the blank stare, or the creeped out brow-furrow, we have been relying heavily on building relationship.
In the case of Sommer, it was building a customer relationship with her as I often visit the store in which she works. After a month or more, I finally stole a moment with her to ask if she had ever modeled, or would ever be interested. And the rest is art!
I hope you enjoy the result of the time we spent with her, and please don't get creeped out if someone thinks you have something special!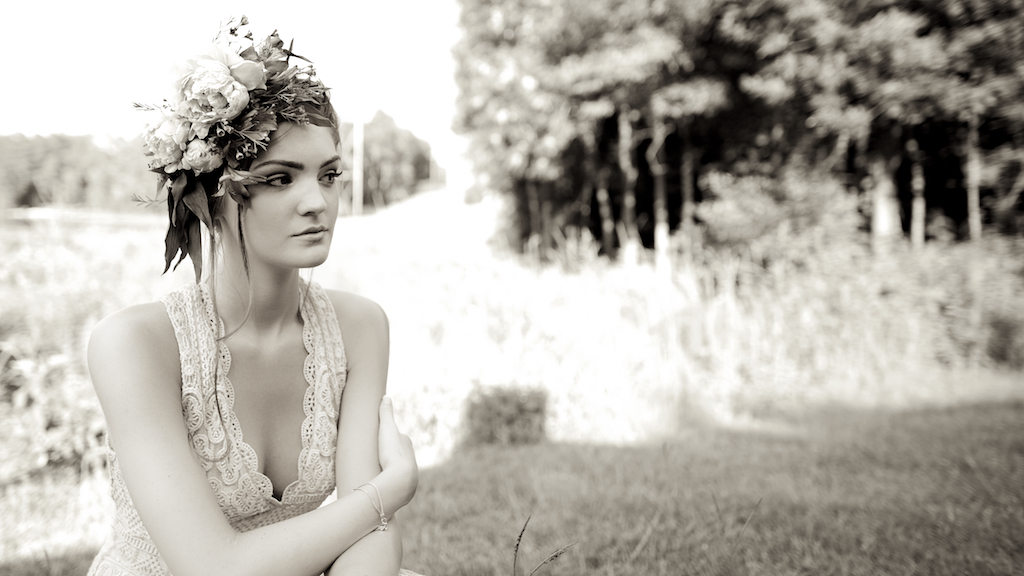 Photographer: Patrick Biestman of Acuity Photography
Hair and Makeup: Rachel Biestman
Dress: Korovinas Lace Dress, Anthropologie
Floral Headpiece: Rachel Biestman
Necklace: Noonday Collection
Contemporary Photography, Glamour Photography, Natural Light Photography
Rachel Biestman
Acuity Photography, acuity photography, Acuity photography, augusta portrait photography, portrait photography in martinez ga, Portrait studio in Augusta GA, Portrait photography in Augusta GA, portrait photographers in evans ga, portrait photography in evans ga, portrait photographers in augusta, portrait photography, Portrait photography in Evans GA, portrait photography in augusta ga, senior portraits in augusta ga, senior portraits evans ga, evans portrait photography, senior portraits augusta ga, senior portraits in evans ga, evans ga portrait photographers, evans ga portrait photography, augusta portrait photographer, Augusta ga portrait photography, airbrush makeup in augusta ga, makeover in Augusta GA, makeovers in Evans GA, makeup artist in evans ga, makeup artists in evans ga, Makeup artist in Augusta GA, maternity photography ideas, Airbrush makeup in Evans GA, airbrush makeup augusta ga, Airbrush makeup in Augusta GA, airbrush makeup in evans ga, airbrush makeup for weddings in augusta, Patrick Biestman, evans makeup artist, augusta makeup artist, evans ga makeup artist, evans ga makeup artists, airbrush makeup evans ga, airbrush makeup in augusta, augusta ga makeup artist, evans ga airbrush makeup, hair salons in augusta ga, hairstylist in augusta ga, hairstylist in evans ga, hair salon in augusta ga, hair salons in Evans GA, portrait photography augusta ga, ACUITY PORTRAITS, unique portrait photography in evans ga, augusta ga portriat photography, natural light portrait photographers evans ga, natural light portrait photography